Mets To Sign Starling Marte
The Mets have capped off one of the single busiest days we've seen from a team in recent memory by landing the market's top center fielder. New York is reportedly in agreement with  Starling Marte on a four-year, $78MM deal, pending a physical. Marte is represented by Rep 1 Baseball.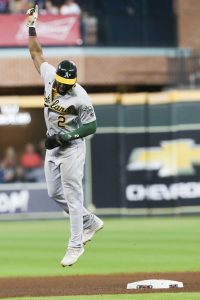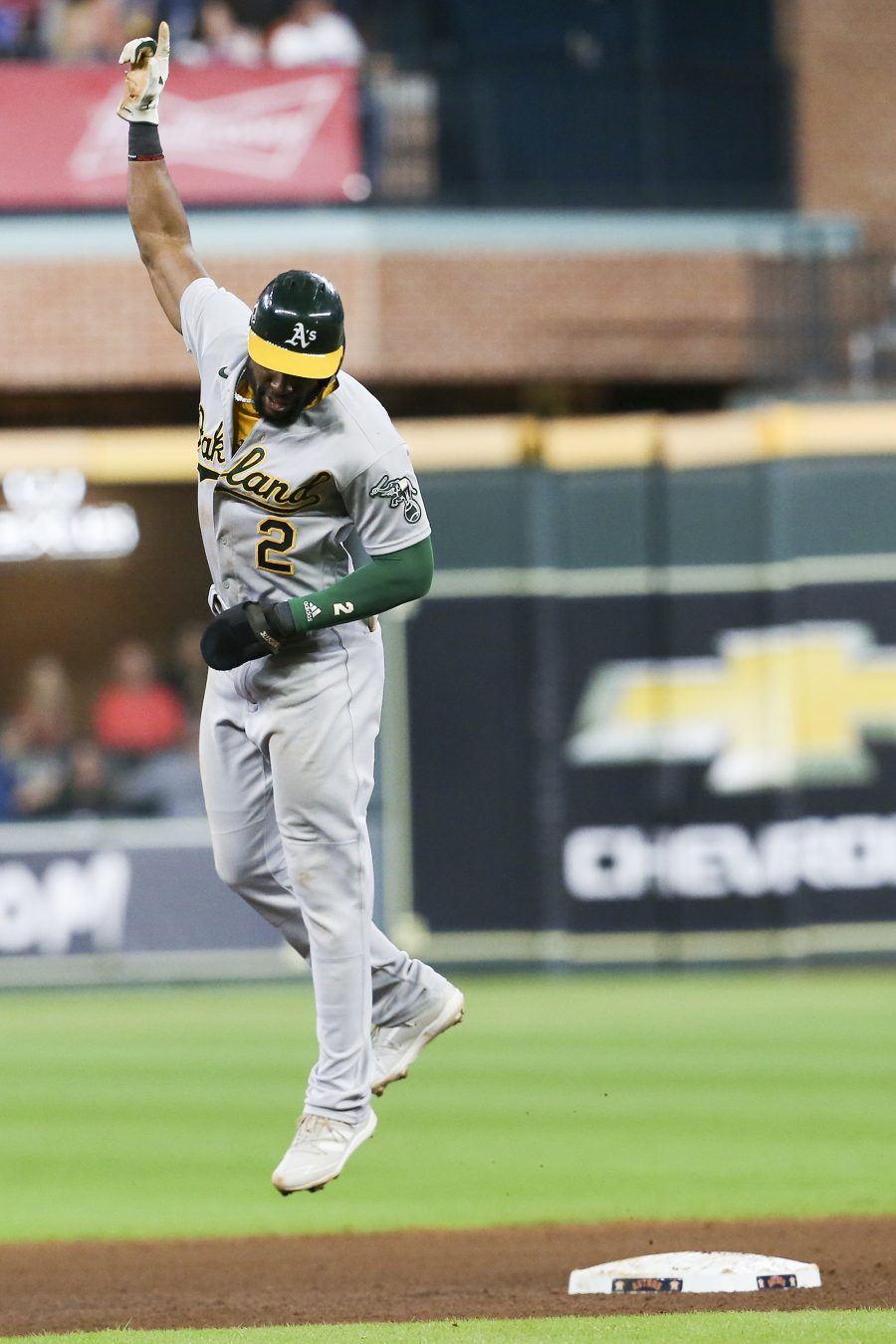 It's the culmination of a shocking evening for the Mets, who have also agreed to terms with Eduardo Escobar and Mark Canha within the past few hours. Marte was the prize of this offseason's free agent center field class, easily the top option in an otherwise thin market. A 2016 All-Star and two-time Gold Glove award winner, he's coming off perhaps the best season of his ten-year big league career. Marte split the 2021 campaign between the Marlins and A's, posting a .310/.383/.458 line with 12 home runs and an MLB-best 47 stolen bases in just 120 games.
A rib fracture cost Marte more than a month of action between April and May, but he was as productive as ever upon returning. After adjusting for the pitcher-friendly home parks in which he played, Marte's hitting alone was 34 percentage points better than league average, by measure of wRC+. That's the best mark of his career, and the speedy outfielder added significantly more offensive value on top of that with incredible baserunning. Not only was he the game's most prolific base-stealer, he was successful on 90.4% of his attempts — an incredible rate considering opposing pitchers were well aware of the threat he posed every time he reached base.
While Marte might be coming off his best season, he's been a consistently above-average player for the bulk of his career. His 2021 campaign was the most extreme version of a generally steady skillset: plenty of balls in play, high-end baserunning, and an all-fields approach that makes him difficult to defend. Marte's .372 batting average on balls in play this past season was one of the league's higher rates, but he's consistently had a knack for turning batted balls into hits. So while that BABIP may take a bit of a step back in 2022, it's likelier he'll regress closer to his career .344 mark as opposed to the .292 league average.
Marte's an aggressive hitter, and he's never had a season with an above-average walk rate. His 8.2% walk percentage in 2021 was a personal best, and his patience tailed off significantly after he was traded from Miami to Oakland midseason. His free-swinging ways also keep his strikeouts down, though, as the Dominican Republic native hasn't punched out in more than 20% of his plate appearances in a season since 2014. So while Marte doesn't take many free passes, he nevertheless typically manages solid on-base numbers based on batting averages that regularly push (or, in 2021's case, exceed) .300.
Defensively, Marte broke in as a left fielder with the Pirates in deference to Andrew McCutchen. One of the game's top corner outfield defenders, he kicked over to center field in 2018 after Pittsburgh traded McCutchen away. He's spent the past four seasons playing almost exclusively up the middle, drawing mixed reviews. Defensive Runs Saved has pegged Marte as a bit below-average over each of the past three seasons. Statcast's Outs Above Average typically rates him a bit above par with the glove.
However one falls on Marte's glovework, it seems the Mets view him as a defensive upgrade over incumbent center fielder Brandon Nimmo. Signing Marte will allow New York to kick Nimmo into right field, where he'll replace free agent Michael Conforto (who almost certainly will wind up elsewhere after today's transactions). They'll be joined in the regular outfield by Canha, the culmination of a drastic shakeup on the grass that unfolded within the span of a few hours.
How long Marte will be capable of manning center field remains to be seen. He signed an early-career extension with the Pirates that delayed his first trip to the free agent market by a few seasons. Marte turned 33 years old last month, and it's possible he'll need to move to a corner spot at some point over the course of this deal. He's not yet shown an appreciable drop-off in sprint speed, according to Statcast, and the Mets are counting on his speed and defense holding up for at least the next couple seasons.
A four-year guarantee for a player at this age whose game is so reliant on athleticism isn't without risk. Between Marte's great platform season and the lack of obvious center field alternatives, that always seemed likely to be the price a team would have to pay to bring him aboard, though. Entering the offseason, MLBTR projected a four-year, $80MM guarantee and ranked Marte this winter's #13 free agent.
Marte is the highest-ranked player of this winter's class to sign to date, and he's also secured the largest guarantee of any player so far (edging out Eduardo Rodríguez's deal with the Tigers by $1MM). In the span of a day, the Mets have become the offseason's most active club — the kind of spending spree fans in Queens envisioned when Steve Cohen purchased the franchise from the Wilpon family last offseason.
The club opened Cohen's first season as owner with a payroll in the $195MM range, per Cot's Baseball Contracts. It's clear they're prepared to shatter that mark in year two, as Jason Martinez of Roster Resource estimates that spreading the Escobar, Canha and Marte deals evenly would push the Mets' 2022 commitments to $225MM. The organization's estimated luxury tax bill, meanwhile, now sits above $229MM.
That's including projections for arbitration-eligible players, some of whom will be non-tendered or traded. Speculatively speaking, Dominic Smith, J.D. Davis and/or Jeff McNeil could be flipped elsewhere, as today's series of acquisitions could inhibit the path to everyday reps for that trio (particularly Smith and Davis). Yet it's also apparent that Cohen is giving general manager Billy Eppler wide leeway to bolster the roster in hopes of snapping a five-year playoff drought, and further moves could be on the horizon. All three of today's additions are position player pickups, and Eppler is already on record about the team's desire for rotation help.
While the Mets' roster is the main story of today's transactional barrage, their agreement with Marte has trickle-down reverberations for the rest of the league. As the only clear everyday center fielder available in free agency, he'd drawn wide interest over the offseason's first couple weeks. Teams like the division-rival Phillies, crosstown Yankees, Marlins, Giants, Astros and Rangers had all been rumored to have interest in his services. Having missed out on Marte, a few of those clubs might now have to pivot to the trade market.
Arizona's Ketel Marte, Pittsburgh's Bryan Reynolds and Baltimore's Cedric Mullins stand out as the top potential targets, but it remains to be seen how attainable any of those players may be. The D-Backs have been resistant to moving any of their core controllable stars; the Pirates were reportedly disinclined to consider deals involving Reynolds at the trade deadline, viewing him as a long-term building block. The O's are at least willing to field offers on Mullins, but it's not clear that's anything more than due diligence at this point.
Jon Heyman of the MLB Network first reported the Mets had agreed to terms on a four-year, $78MM guarantee with Marte.
Image courtesy of USA Today Sports.