Steph Curry & Bruce Lee Foundation Partner to Sell Sneakers For Families of Atlanta Shooting Victims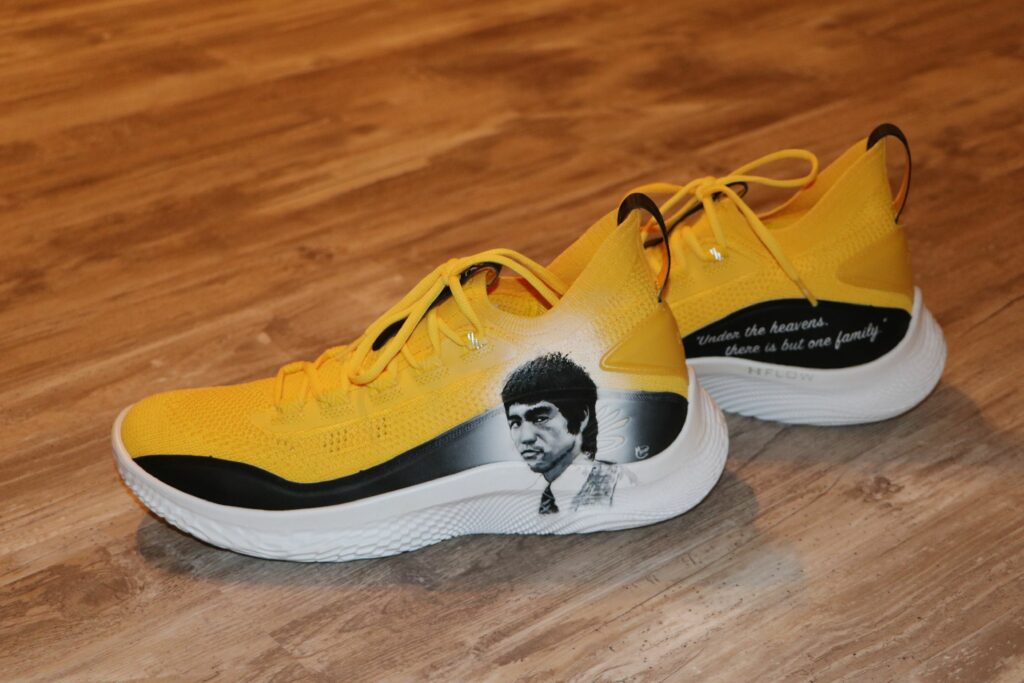 SAN FRANCISCO, MAY 12, 2021 – Custom, game-worn sneakers created by NBA star and two time MVP, Stephen Curry, in collaboration with The Bruce Lee Foundation are on sale in partnership with Asian Americans Advancing Justice – Atlanta and Goldin Auctions. The shoes depict martial arts legend Bruce Lee and his family and were designed to show support for the victims of shootings that took place on March 16 at three Atlanta-area spas. Fans can bid on the sneakers here and all proceeds from the auction will be donated via Asian Americans Advancing Justice – Atlanta to the individuals and families impacted by the shootings as well as Atlanta-area programs dedicated to Asian American advancement.
Following the tragic events in March, Curry contacted the Bruce Lee Foundation, hoping to lend his voice and use his platform to create a conversation and spark change amid increased violence against the Asian community. The resulting bright yellow and black customized sneakers, which were painted by Kreative Custom Kicks, signify Curry's solidarity with the Asian community. The shoes depict Bruce Lee, who was a champion of equal rights, as well as a quote from Lee, "Under the heavens, there is only family." The colorway of the custom Curry 8s are also reminiscent of Bruce Lee's famous Onitsuka Tiger shoes. The Under Armour sneakers were worn by Curry during an April 4 game against the Atlanta Hawks.
"After all we have been through this past year, let alone in the history of our country, people still deal with unnecessary tragedy and are afraid for their lives. We have to do better," said Curry. "We have so many faithful Asian American fans that have supported me along this amazing journey. We represent them on the court and I feel the love no matter where I go. The shoes are a small way in which I can stand with this community, honor and support the victims of this tragedy, while also bringing awareness to Lee's timeless teachings. We are all human beings on a quest to fulfill our purpose and that energy should be used to uplift and love each other to the fullest. Anything else is a waste of our existence."
"I think Stephen's gesture is a beautiful example of allyship and solidarity in action," said Shannon Lee, CEO of the Bruce Lee Family Companies and Chairperson of the Board of Directors for the Bruce Lee Foundation. "I am honored he, Curry Brand, and Goldin Auctions would choose my father and my family as the symbol for the idea that we are all one family, as my father said, and therefore must all stand for one another. I am grateful to be able to be a part in some small way of assisting those families that have had tragedy land at their door. We thank Steph, Curry Brand, and Goldin Auctions and are honored to use our collective platform to support the victims' families and charities dedicated to Asian American advancement."
Lee added: "We must truly live the idea that under the sky we are all one human family and we must take personal responsibility for our inner world (our feelings and our thoughts) and stop blaming our dissatisfaction on external circumstances and outside factors. When my father said we must know ourselves and work for self actualization, he didn't mean so that you could be in great shape and become a movie star, he meant so that you can be confident and at peace with yourself by seeking the cure for what plagues your conscience and ails your soul from within. With AAPI month upon us, I think it's especially important to be conscious of his "One Family" message now more than ever."
"We are honored to be a part of such a noble example of allyship and solidarity for the Asian community," said Ken Goldin, Founder and Executive Chairman of Goldin Auctions, the leading marketplace for collectibles and trading cards. "With this initiative, Steph has shown that he is not only one of the greatest shooters in NBA history, but also an incredibly thoughtful and empathetic human being as well. We should all strive to follow his and the legendary Bruce Lee's examples."